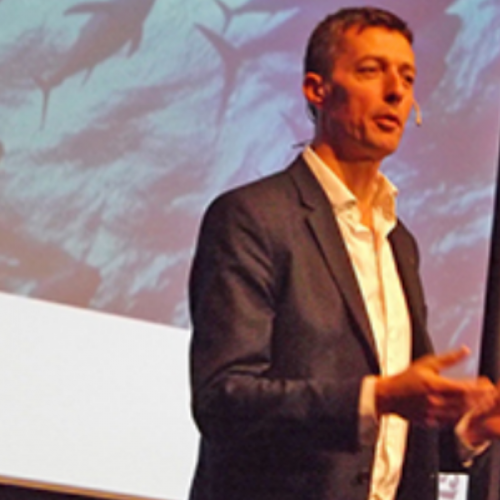 | Tue, 17 Mar 2020 - 16:35
If seafood is to realize its full potential as a global food security solution – providing healthy, sustainable, and affordable protein and meeting shifting consumer expectations, then the aquaculture sector must accelerate its progress hard and fast. That's the message from one of the U.K.'s leading retailers, delivered at the North Atlantic Seafood Forum (NASF) 2020 by Tesco Responsible Sourcing Director Giles Bolton.
Addressing delegates at the business conference in Bergen, Norway, Bolton said the food industry has to change, as too much of it is unsustainable.
"When you look at the future of our planet, so much of the food industry as a whole is at the heart of the crisis. Already the food sector is the second-biggest contributor to climate change, and because of the advances of renewable energy, we will become the biggest contributor by 2040. Current estimates also suggest the food industry currently contributes around 60 percent of global biodiversity loss, which has a similar domino impact to climate change that we really don't understand," Bolton said. "If we are going to change then it has to be really significant. And we know the kickers already, which is that we are unsustainably using those resources at the moment, but with the growth in population through to 2050 and based on the current production models, we have to produce maybe 50 to 70 percent more food in terms of basic vegetable and grain production. And that's a very intimidating challenge."
Recognizing this "fundamental need to change" and to get on the "front foot" with its ambition to reduce the environmental impact of the average U.K. shopping basket by 50 percent, Tesco has come up with three "levers of change," explained Bolton. These are: How much diets need to change and how does it support customers that want to shift their diets; how it works collectively to improve supply; and how does it eliminate as much waste as possible.
With regard to fisheries and seafood, he said this has translated into a number of targets and measures, including sustainably sourcing all wild fish and having a zero-tolerance policy to illegal, unreported, and unregulated fishing (IUU), ensuring all seafood can be traced back to its source, that it doesn't sell any species that appear as "endangered" or "critically endangered" on the IUCN Red List of Threatened Species, reducing the average forage fish dependency ratios among its salmon suppliers, while also focusing on the most serious threats to workers throughout its supply chains.
The retailer's approach also follows three key elements: improve through incremental change; transform through innovation; and advocate through stakeholder collaboration.
"We are proud of some of the progress we have made. Tesco has come a long way in the last five years," Bolton said. "We want to be a responsible partner for the seafood sector because it's a vital part of the support we want to give to our customers to eat healthily and sustainably in the future."
Bolton told NASF delegates he believes there's considerable opportunity for the industry within the general health advice to eat one or two 200-gram portions of seafood each week, including one oily fish.
"When I look at the challenge for the world, I can't look at much of the meat sector – solutions are not going to come from there. I can look at part of the fruit, vegetable, and grains industries, but for protein the opportunity for seafood is enormous, particularly for aquaculture. But it's not on track," he said. "That's not to say that there aren't fantastic efforts going on, but not to the scale needed when you look at how the world is changing. From our point of view, our ability to get sustainable, affordable, healthy proteins to our customers is going to require a significant increase in production. And we don't think there is anything like the level of innovation and progress needed yet."
"We really want you to get there," Bolton added.
Bolton also said he believes that aquaculture needs to raise its consumer profile if it is to capitalize on this "really, really big opportunity."
"Customers expect 100 percent sustainability and I think we are vulnerable in this industry. We have a very big public debate about the sustainability of our wild fish species, yet we are also producing lots of farmed fish which doesn't really operate to the same level of standards," he said. "That could undermine [aquaculture's] reputation. And while there's a lot of progress being made to try and address this, I do think there is a problem if we can't go faster."
Through its aim to see less pressure put on reduction fisheries to supply traditional marine raw materials like fishmeal and fish oil, the retailer is supportive of alternative feed ingredients like insect meal and algal oil being used in aquaculture. In the second half of 2019, it began revising its farmed salmon standards with targets focused on lowering the amount of wild-caught fish used in feeds. This has led to closer work with farmers and feed developers to support the scale-up of more sustainable ingredients.
"Algal oil is a brilliant example of a step change in innovation. It can really drive business as a genuinely sustainable feed source, and it is fantastic to see a number of our producers start to experiment with it. The question is can we go harder and faster – how do we really scale this up?" Bolton said. "We also see that insect protein as a component of feed actually has much more potential and can grow quicker in aquaculture than in the meat sector, where it's proving more difficult to make that technology work at the moment."
Seafood, Bolton said, could take inspiration from other areas of food production that find ways to use innovation to make jumps in production. 
"What we see in different areas of food production way outside of seafood is the hardest part to proving an innovation works is to make that jump. It's a really big challenge and it takes bravery," he said. "But you nearly always find that those businesses who are at the forefront are the strongest in the long-term because of their understanding of the opportunities and the work that's gone in to figuring out of how to make it work. I don't see that seafood should be any different."
That need for seafood to make those step changes also means that there is plenty of opportunity, he added. 
"As an industry that's ready to work together to make change, and to be at the very forefront of things, it's a very exciting time for seafood – with a massive opportunity," Bolton said.  "We know at Tesco, we have a role in being part of that."
Source : Seafood Source